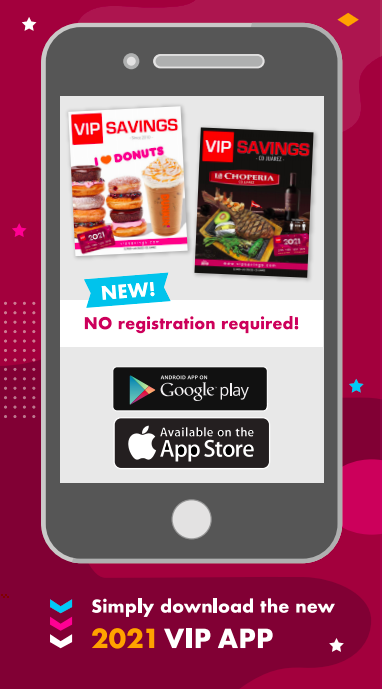 VIP DISCOUNTS
Download our VIP Savings app on iPhone or Android to easily view your VIP discounts on your phone! You'll get a digital copy of our VIP Magazine on your phone when you download the app.
OR


Visit our website! Our digital magazine can be viewed on our site for quick reference. We also have our VIP Discounts page in the menu bar of the site where you can search a specific business or browse our entire selection of deals.
UNLIMITED DISCOUNTS FOR A WHOLE YEAR!
You can use your VIP Card as many times as you wish at any of the businesses listed on our magazine and website! There's no limit to how many times you can redeem your VIP discount. Save money every day with your VIP Card!
BONUS DEALS
Follow us on Facebook and Instagram for exclusive "Buy 1 Get 1 Free" and "50% Off" offers. These special deals are only valid for 1 day, follow us on social media and you won't miss out!
Use left/right arrows to navigate the slideshow or swipe left/right if using a mobile device